July - Friedrichshafen 2019
[Alternative Title] 'Three old men on tour - series 2'.
For series 1 go here.

Ian G3ROO, Steve G3ZPS and I had such an enjoyable time in 2018 that we felt we should go again.
Air travel hadn't been a total success last year with many hours waiting for connections in Frankfurt. So we hatched a plan. In 2019 we would go all the way by train!
Research revealed that there was such a thing as an Eurail Pass that covered all journeys in Europe – including Eurostar. The cost was amazing. You can travel anywhere, on any three days within a month for the sum of £177 (2nd class) or £237 (1st Class). We actually would only need to use two of those days travel - but there was no cheaper method.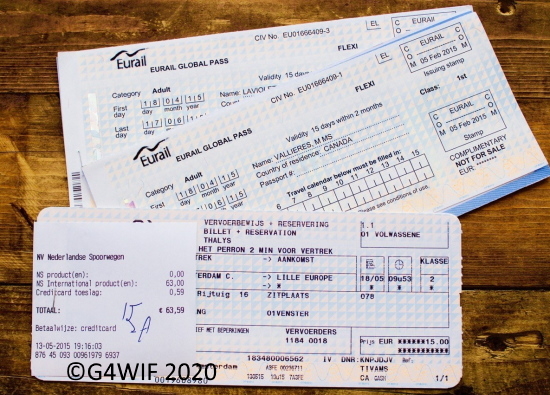 We spent a very long time pouring over timetables - and based partly on recommendations of others that had travelled parts of the network - this was our route:
Eurostar to Paris Nord /  Paris Gare de Lyon to Zurich / Zurich to Romanshorn (Switzerland).

Then take the ferry across Lake Constance from Romanshorn to Friedrichshafen in Germany.

We had allowed a bit more than an hour to cross Paris - because past experience had shown it only takes 15 minutes.
Well not on our outbound trip it didn't and due to massive road holdups, we missed our connection and our reserved seats to Zurich. So we braved the SNCF ticket office and with the help of our limited French and Google Translate, we explained - and paid for another reservation – which we got - but not for a good few hours later.
In parts of Europe, reservation is a separate charge on top of the rail ticket. On intercity routes, reservation is mandatory, whereas on regional trains, it seems that it is not. 

As we sat in the Paris coffee shop we realised that by the time we eventually reached the ferry it would have closed for the night. How we would have coped without information technology in our hands I do not know - but we worked out that we would have to abandon our original connection after arriving Zurich because there was another all night ferry from a town on the far west side of the lake called Konstance (sailing to Meresburg). Access to timetables told us that we could get a train from Zurich to Konstance and then a bus to the night ferry.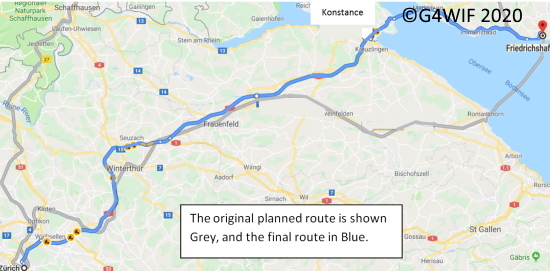 It all worked like clockwork and all we then had was the 40 minute journey from Meresburg to Friedrichshafen. Friends at our hotel got the German speaking hotel staff to arrange a taxi to meet us.
We arrived only 5 hours later than planned and the open Inter-Rail passes meant that the only extra payments were fairly minimal.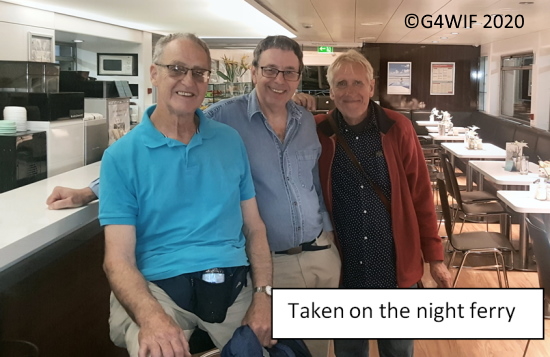 We had finally arrived - and Steve had celebrated his birthday with an adventure across Europe !

The Ham Radio convention at Friedrichshafen is huge. We have nothing reaching that size here in the UK and it is all under cover in a splendid modern convention centre. There is virtually everything there you might want to buy. The only problem would be getting it home.
Steve and I bought  small things. Ian has no control and found new additions to his vintage spy radio collection. As last year, he was fortunate that he found friends there to bring it back in their car.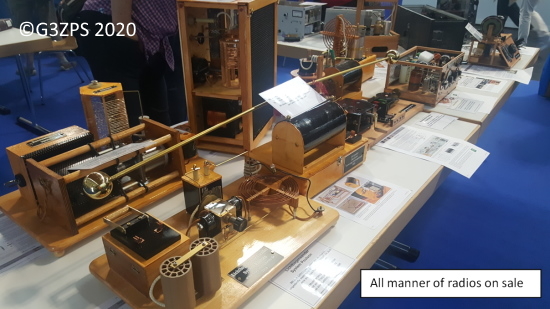 On one of the convention days I attended a class to learn to operate a new SDR Kits Vector Network Analyser which I had taken delivery of the previous week. You have to book these "one to one" classes months before where there were just eight places in German and eight places in English.
All free, you just need to have bought a VNA first!

The town of Friedrichshafen is simply lovely. It has a beautiful shore line and there really are more restaurants there than you can count.

We certainly didn't go hungry. We visited the convention on two days but on the Sunday we went to the Zeppelin Museum instead. It's very impressive and you get a real feel for the engineering that went into them. If you have deep pockets you can even have a flight in one. Later after lunch, Steve and I walked miles down the shoreline.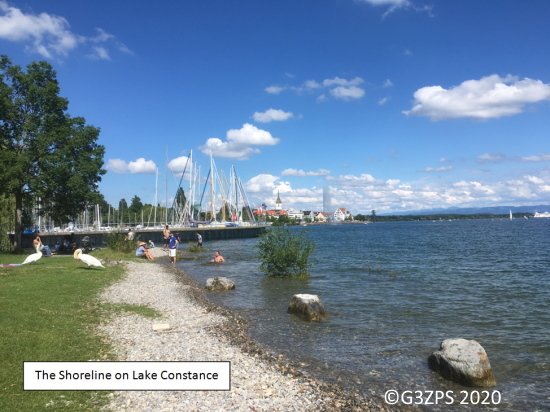 There are parks and more formal gardens. There was a bandstand with a choral performance that we stopped at - and views that were just stunning.
Going back was easy. Ferry to Romanshorn and then the regional train back to Zurich. Later at Paris Lyon we braved the metro. It is very old and very poorly signposted but we made it to Paris Nord and then onto the Eurostar having sat for an hour in the non air conditioned departure lounge on one of the hottest days of the year. Ugh!
If we do this trip again in 2020 we have a different air/train route planned that could well be far better. It will not need an Inter-rail pass, which is just as well. As I write this in August I've learned that the UK – France Eurostar part of the route will no longer be included in the Inter-rail system – which is a real shame.

Then to show that these organisations can't make up their mind, the following day it was announced that the UK would remain part of the Inter-rail arrangement after all – well until they change their minds again!