Ham Radio - Friedrichshafen 2018
Subtitled "Three old guys on tour 2018"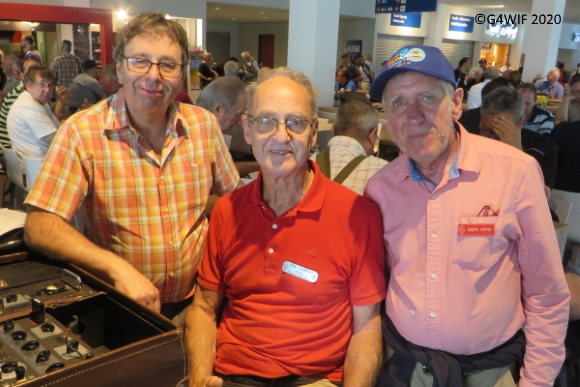 Shown above, Tony G4WIF, Ian G3ROO and Steve G3ZPS.
The early morning taxi taking Ian G3ROO, Steve G3ZPS and I to London City got us there with hours to spare. No chance then of missing our flights due to the later rush hour traffic. Well that was the plan.
It was foggy, and moments after our arrival all flights were cancelled. The Lufthansa agent told us he was paying for a taxi to Heathrow and we would make the 9:20 flight which would allow us to connect at Frankfurt to Friedrichshafen. In the cab, the driver said "no way you will make that flight in this traffic". Oh dear we thought. Well probably our reaction was a touch stronger. The driver recommended the Heathrow Express train from Paddington and given that it only takes fifteen minutes, we went for it. Once we had bought the tickets we all got a text message that the flight was to be delayed an hour and it turned out to be a little later than that. So perhaps the taxi would have made it after all but only by crawling in traffic most of the way. This was better - even though it cost us an extra £25.
Having taken off from Heathrow we arrived in Frankfurt with 5 minutes to make our connection. After clearing passport control Steve was out of the security check area first and he went ahead to the departure gate which was already calling our flight. He may have told huge whoppers about us being just behind him and demonstrated fantastic visual acuity by saying he could see us in the distance – even though we were around several corners and on different floors at the time. The ticket agents rushed us through boarding checks and we all jumped on the bus that had been kept waiting by three English gentlemen (in their third age) and we set off for the airplane.
The short flight to the small Friedrichshafen airport arrived at exactly the time stated on our original tickets. We were back on Schedule!
I can't praise the Comfort Hotel enough. Very comfortable with super friendly staff. It is perfectly situated only a kilometres walk from town and is surrounded by shopping centres and restaurants.
The first night we went to the local German Restaurant Zum Klosterwirt which was excellent. By then we had met Rick W0RIC and his wife Kim who joined us there. Over the weekend we met a lot of lovely people but it all started with Rick and Kim who were excellent company throughout.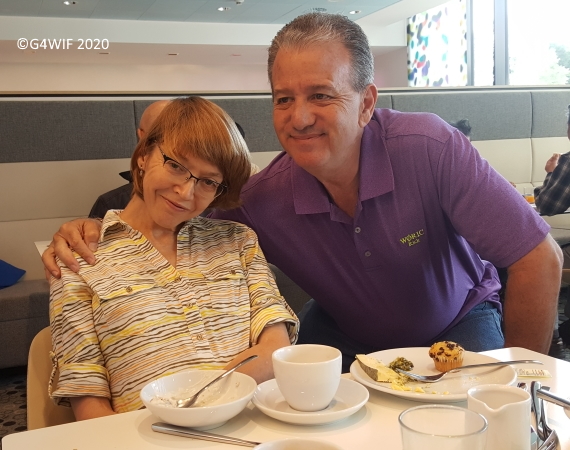 The delightful Kim and Rick (Photo by Steve G3ZPS)
An early start on Friday as it was the first day of the hamfest. A cab fare of 12 Euro between us didn't break the bank. We already had our tickets thanks to Steve but you couldn't help being impressed by the efficiency of the convention centre people as orderly queuing turned into speedy entry. ... and then my jaw dropped by the scale of the hamfest. It was big. It was really big.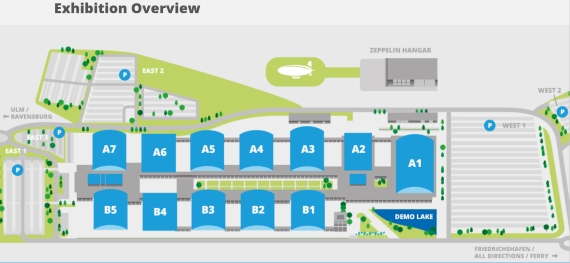 Two hanger size flea market halls and another for the expensive gear from the major manufacturers. There was an awful lot to look at and it took a couple of days to really say you had seen it all.
A high point for me was meeting our German club representative Dirk DL1GKD. Dirk had volunteered last year to replace the much missed Dieter DL2BQD who handed the baton to Dirk and has excelled in the post. Dirk bought two friends and (club members) with him - Christian DL3GBO and Rolf DL3AZ.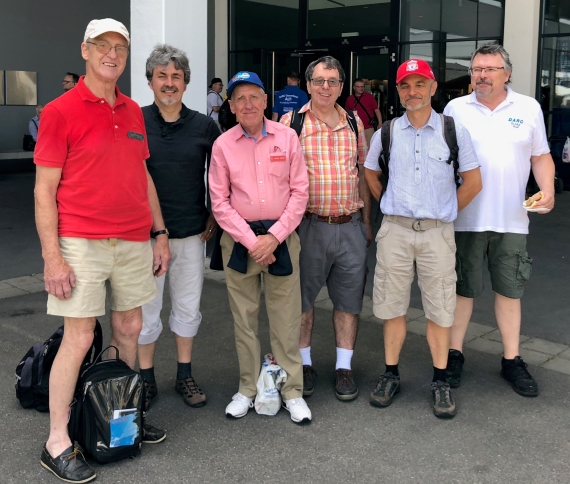 Shown above, Ian, Christian, Steve, Tony, Dirk and Rolf. (photo by Steve G0XAR)
We had lunch in the super outside dining area.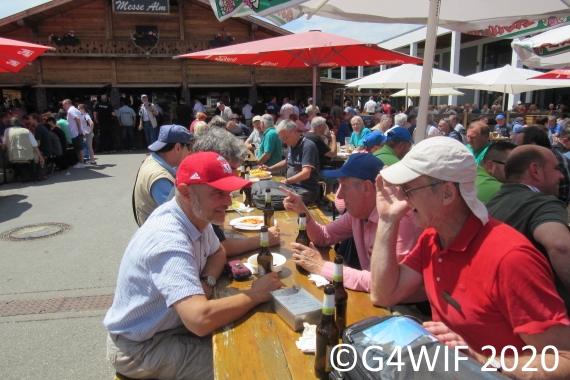 There are also many other restaurants inside the convention buildings but it was too sunny a day to sit indoors.
To say that there is a lot of ham radio equipment on sale in the flea market rather understates the scale of what was on offer.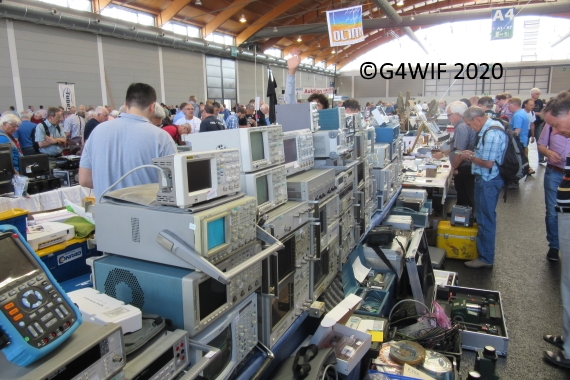 The prices were very reasonable with really, only the collectibles attracting high prices. Early on, Ian G3ROO found two more spy sets to add to his collection. All he had to do then was wonder how he would get them home with a baggage allowance of just 8kg.
Later that Friday evening we took a slow walk down to the harbour area.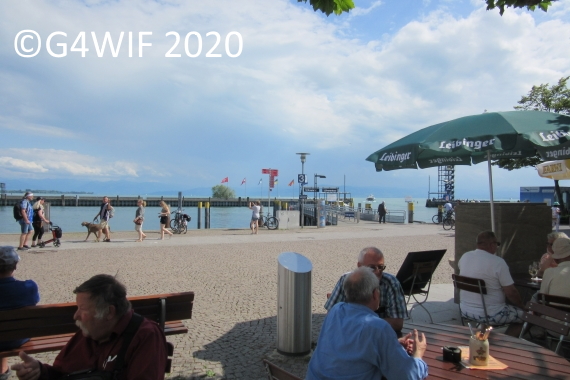 In the distance across the lake you can see Switzerland.
Later we were met by Rick and Kim and we went to an Indian restaurant. Then back to the hotel bar to meet old and new friends from countries all over the world. Those that had recently attended the "mudfest" that was the Dayton Hamvention said this event was far better.
Saturday bought a bonus. Another day of hamfest and bargain hunting, but also included in our ticket was access to another hall hosting a "Maker Fair".
Lots there to see and some very nice engineering work on "Steampunk" objects.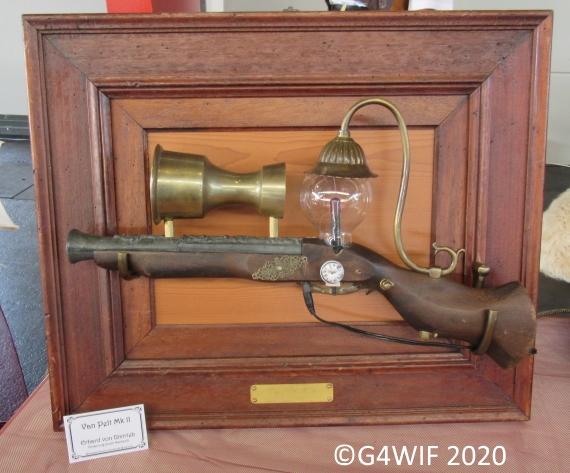 The best meal of the weekend was to come later that evening. Rick has a friend Frank who flies long haul jets for Lufthansa. Luckily he was free to travel over the lake from his home in Switzerland and he offered to find us a memorable place to eat - and do all the booking too. How could we say no to that!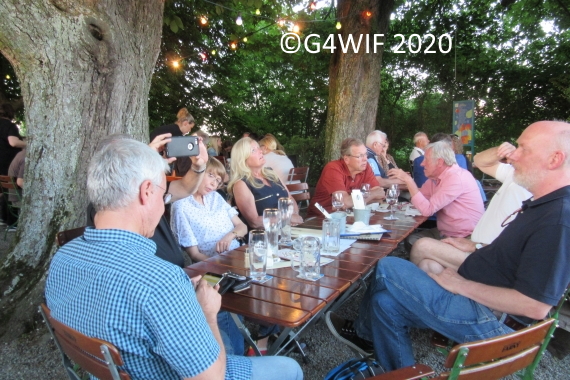 Above: Frank (who keeps Lufthansa in the air) and Jenz (also from Germany).
Situated in Krone, just 15 minutes drive from Friedrichshafen, the Restaurant Gasthof has a splendid outside dining area shaded by the trees.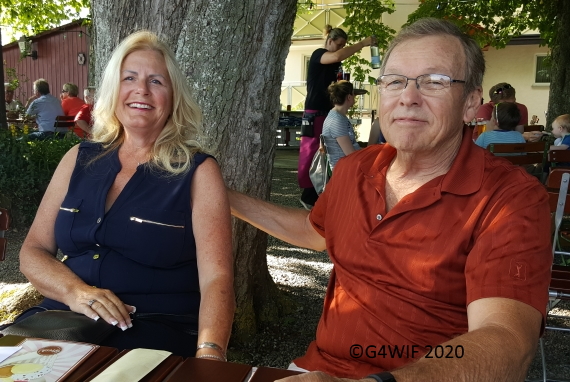 Gillian and Fritz W6KK (Photo by Steve G3ZPS)
Also present were Rick and Kim plus new friends Charles "Fritz" W6KK and Gillian – originally from Liverpool but long transplanted to the United States. The food was excellent of course, but sitting there with friends from three countries - just having the best time reminded me how special ham radio can be.
Flying home the next day Steve, Ian and myself agreed that we would have to do this again next year. Perhaps we may travel by train to allow us to bring back more treasures. I can't wait!
Photo Albums. Tony G4WIF and Steve G3ZPS