May 2020 - Gardening through the Lockdown
Aside from the normal activity of producing smoke from solder - I like to grow my own vegetables.
During the CV19 pandemic, this took on a bigger part of my life as you need activities when in lockdown to keep your mind healthy.
Experience has shown that my soil is not good for growing things like tomatoes - so I grow those in containers. The small patch below is cleared and ready for runner beans and courgette's.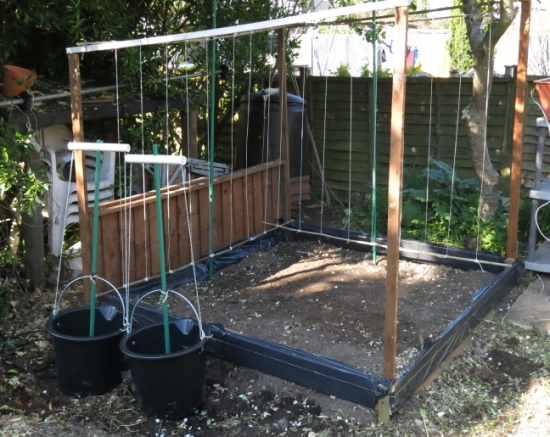 In the foreground you can see that I use whatever is available as a planter container. Here are a couple of converted buckets that LIDL were selling for £3. They are large enough that I am trying two tomato plants in each. I covered the ground in the veg patch with a thin black linen that gardening stores sell for the purpose of keeping weeds in check. It works quite well. All you do is poke a hole through to plant a seedling.
Last year I lost a lot of seedlings to slugs and snails. I vowed this year to raise the bar in prevention techniques. Above, you can just about see a copper wire running around the black boards surrounding the veg patch. These are connected to 12 volts. A snail coming in contact with these wires tend to fizz a bit and then fall off.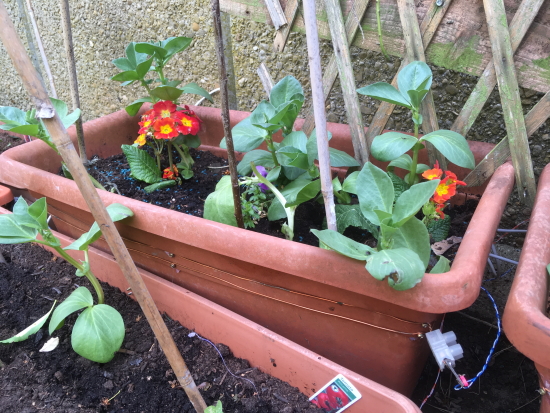 All of my planters had "electric fences" added. Largely this has been successful. There is a red LED on each to show the system is armed. Those slugs get fair warning!
[but it also makes sure I can see if a connection has gone wrong].
The seedlings shown are my broad beans around early May.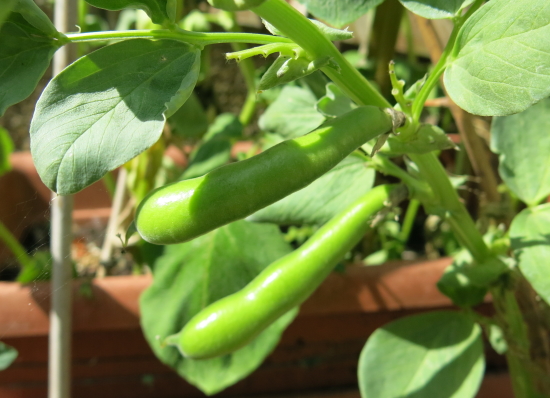 At the beginning of June we were picking our first crop.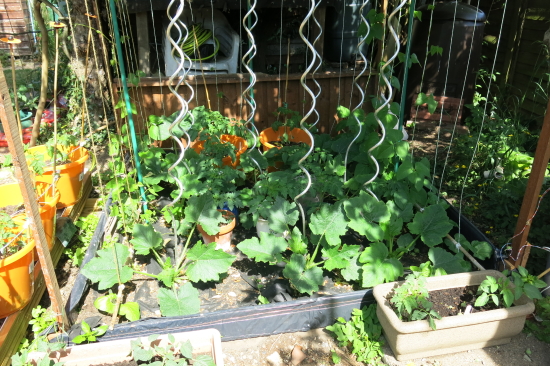 Now in early June the vegetable patch is looking a lot busier. There are nine courgette's arranged in a 3 x 3 pattern and they will be trained to grow vertically up the curly aluminum poles. The runner beans are arranged around the three sides. Also perched there for the moment are a few pots containing tomato plants - some of which will need to be re housed in larger buckets once I've visited the DIY store where they can be had for 97 pence each!
Last year my friends at the Horticultural group at our local branch of the University of the 3rd Age declared that my tomatoes had "rotting bottom" due to inconsistent watering. They are apparently prone to that. So I am trying a new method called "The Rain Gutter Growing System".
You simply attach a "hydroponic basket" to the bottom of the container and sit it on a channel of water that is regulated by a float valve. I supply mine from a rain barrel filled from the roof of my arbor.
The water wicks up into the bucket and the plant draws what it needs. No more watering!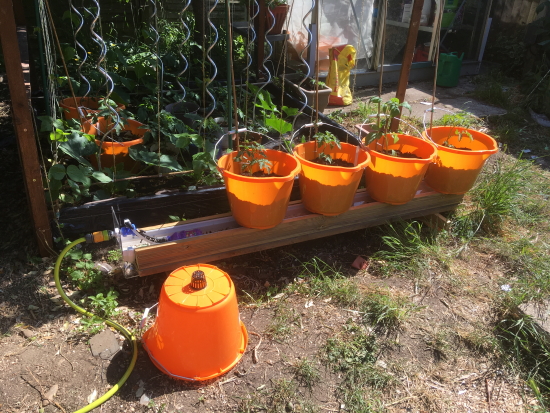 The wood that I used came free. One day while walking we passed a front garden containing a skip filled with decking off cuts. A neighbour had also been busy constructing in his garden.
When I knocked and asked, he was happy for me to take whatever I wanted.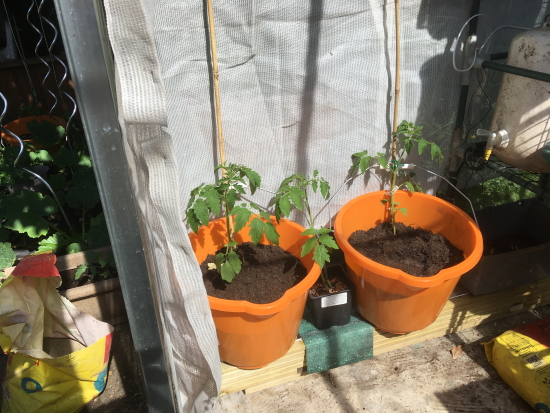 I made another small unit to go in my greenhouse with the hope that I could bring on two tomato plants early. Of course, the greenhouse is a hotter place, so letting the plants dry out is a death sentence. This is by way of an experiment.
All of my seeds came via Amazon. Some came quickly - others took longer. A German company took longer - and that's understandable given the strain lockdown has placed on the postal system. They were however the most generous and aside from the tomato seeds I had ordered, they also included some free seeds to try.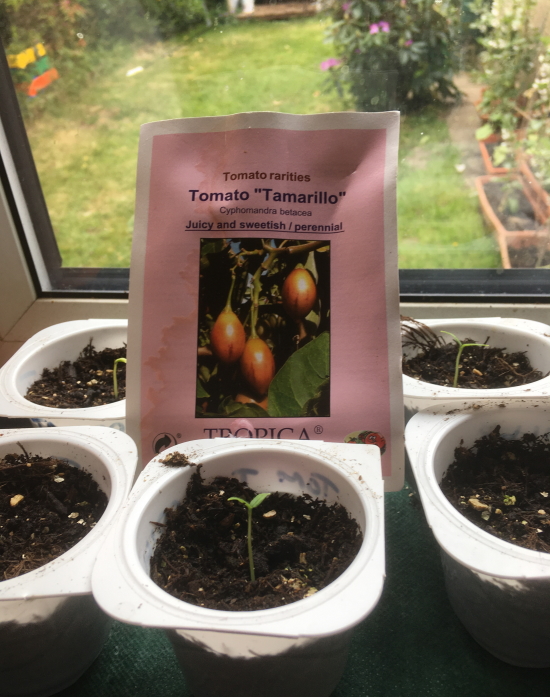 This photo shows the seeds which I tend to germinate on my kitchen window sill. The Tamarillo tomatoes are a new variety for me. This photo was taken a few weeks ago - they are bigger now of course.
And if that wasn't enough, I have another couple of areas covered with tomato plants.
Here is one. This area gets a little too much sun: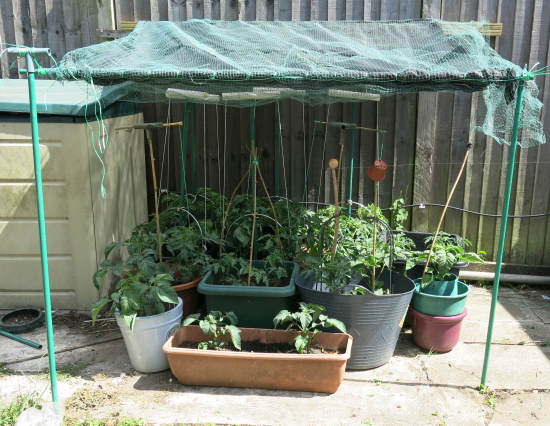 and another...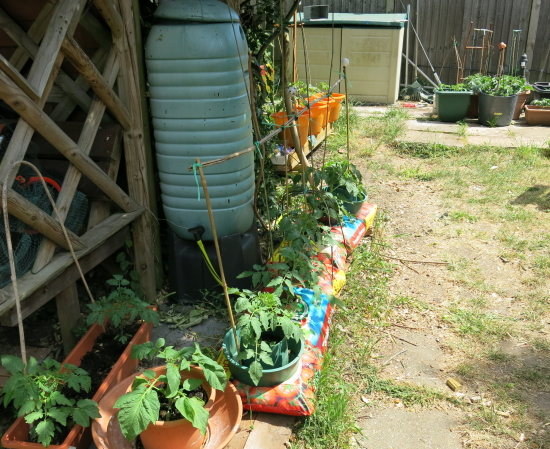 and another here...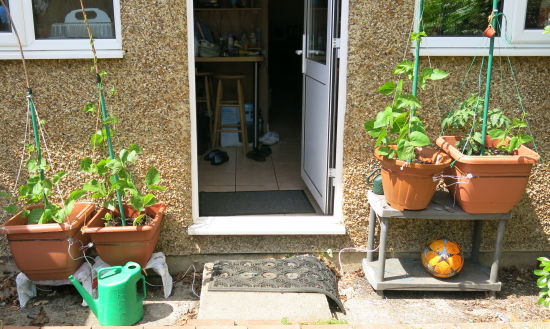 I mentioned in the text above a water barrel.
I have three of these collecting rain like the one below.
It's perhaps a little "Heath Robinson" but they work well and save water.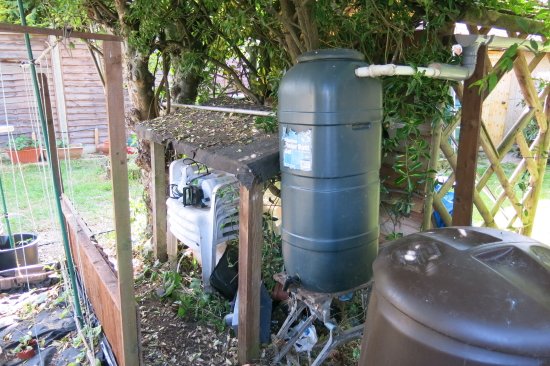 At the bottom right there is a compost bin. Gardens need one of these to recycle all the cut grass and raw vegetable scraps from the kitchen - and it gives worms a place to live!