September 2017 - My take on Earthing Rods
Commercial earth rods are often just steel with a copper coating of some kind. You would probably know if they were solid copper by the consequent dent in your wallet. It seems to me that for radio purposes, these would be fine for a couple of years but eventually the copper coating would degrade leaving you just steel.
So the tribal knowledge on this suggests that copper pipe is the way to go and how to get it into the ground without bending is the next problem. Some have connected a hosepipe to the end and I'm sure that works and I'm equally sure I would get very wet in the process.
I evolved a way of vibrating the blighters into the ground and I can sink a 1.5 metre pipe in my garden in under 15 seconds and some of that includes time climbing down the step ladder to finish the last foot or two..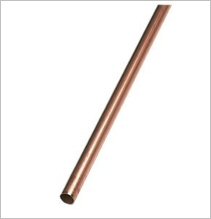 Our D.I.Y. stores sell copper pipe in 3 metre lengths for around £7 each so each of my 1.5 metre rods costs me £3.50 which is significantly cheaper than you can pay for copper coated steel rods.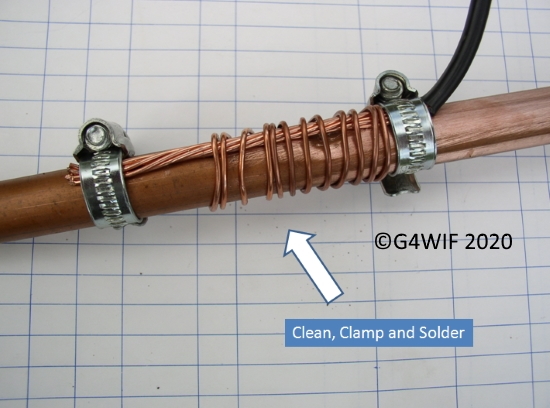 A bag of hose clamps completes the purchases and I attach leads to the earth rods before they go in the ground. Lots of flux is advised to get a good joint. If you forget to make the joint first, you will find that your blow lamp will struggle to get the pipe hot while trying to warm the ground as well. I did once forget and getting the pipe out of the ground involved clamps and a very long steel pole providing leverage.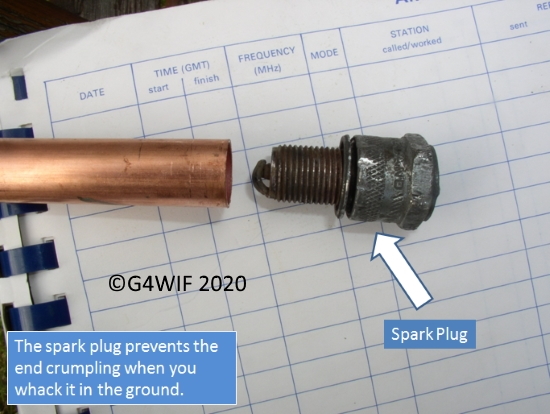 In order to prevent the end of the pipe crumpling, screw an old spark plug in the end. First knock off the white ceramic part that would clip to the plug cap. Flying shards of ceramic suggest that this whole process should be undertaken with eye protection.
Once in the ground you can unscrew the plug and use it again on the next pipe.
Find an old plug box spanner that you are prepared to damage and put a chisel bit in an SDS Drill.
Set the drill so as not to rotate while hammering. Ordinary D.I.Y. hammer drills don't have this feature.
An SDS drill is a different beast. Mine was under 30 quid from LIDL and is a solid piece of machinery.
Flatten the tip of other end of the pipe and stand on a step ladder and simply vibrate the pipe into the ground. Any small stones will either get out of the way or be pulverised.
This is a shot of a couple of pipes around the base of my 20/15/10m vertical. I have 6 rods around the base of this antenna and down the garden I have a 80/40m vertical with 6 more rods - and the two bases are connected via substantial copper wire. Mains ring main cable is pretty cheap.