May 2017 - SNA Jr. by DuWayne Schmidlkofer KV4QB
This is a work of love by the designer KV4QB that has been in the design and ongoing improvement stage for over a year and his blog always makes for interesting reading. It is called the "Scalar Network Analyser Jr" by DuWayne Schmidlkofer.

"SNA Jr" for short, and as I write, we are now in the version 3 stage of it's development.
I built mine on a version 2 printed circuit board that was ordered from OSHPARK by Nick G8INE. The only downside to OSHPARK is that you have to order a minimum of three boards, so it is useful to team up with a building buddy (or two) to share the cost. The three boards are currently $48.20 including delivery.
DuWayne also makes available the PCB files in Eagle format for those that wish to etch their own (or get them made elsewhere). All support documentation is currently available in DuWayne's Dropbox with update news being reported on his blog.
You can see in the above PCB that in the top left there is provision for a logarithmic amplifier in the form of the AD8307. This is a classic circuit for power measurement from Wes Hayward W7ZOI which he continues to refine since his original article in 2001. Mounted above that will be the TFT screen - currently just over £4 on Banggood.
On the right hand side goes the Arduino Nano. Just recently I bought five of those from Amazon for under 14 pounds. Lower left is the space for the AD9850 DDS module board.
SNA Jr (v2) functions.
It is a signal generator.
There are three Sweep Modes.
It is a Watt Meter.
It can measure SWR (with the addition of a Return Loss Bridge)
It has a Dip Meter function.
... and in time, DuWayne might get it to make tea.
Here is a photo of my working project: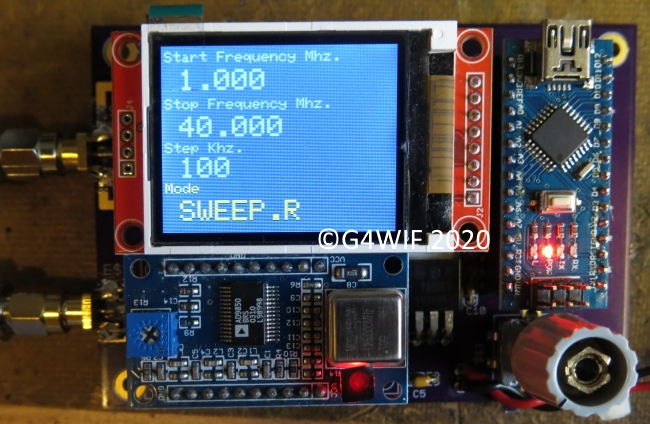 and here below you can see it sweeping a 10MHz Low Pass filter.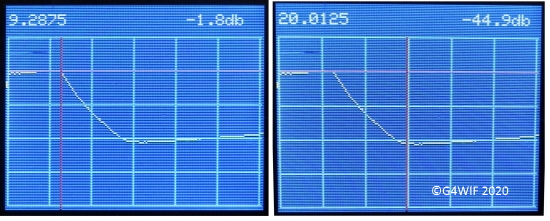 The scan is very fast and once complete you can move the red cursor to read values at frequencies of interest. There is also a continuous sweep mode to perform a live adjustment of filters.
I am not the first to build and review this project and estemed folk have been there before me. It is simply one of the best tools that you can make yourself for very little cost. Well done DuWayne and thanks.
Finally, here is the project now in a case. It's an old screwdriver set case and I used some plastic sheet as a cover leaving a small window in the book binding plastic to see the display.
The blue batteries are two 5 volt mobile phone "boosters" that cost under eight pounds including postage. They are wired in series. They each have an LED "flashlight" function that reminds you to turn it off. Charging them is easy as any android phone charger will do the job.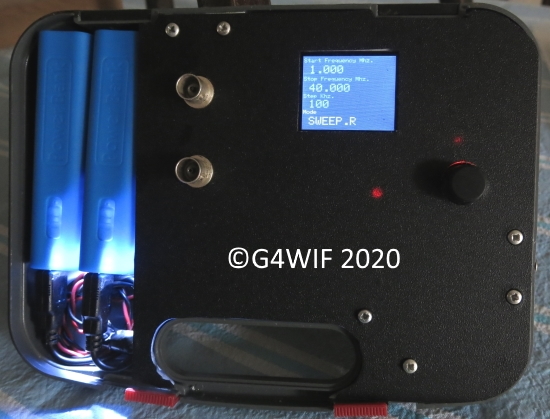 Nick G8INE completed his SNA Jr about the same time. I'm rather taken with the plastic enclosures he uses from Rapid Electronics. If I find them, I'll post the link here.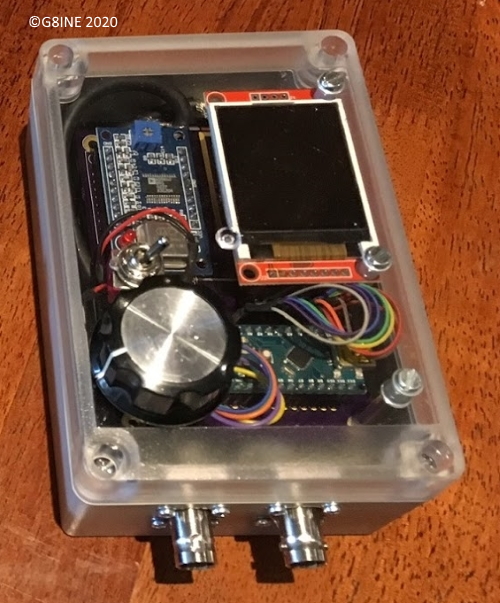 Keep an eye on DuWaynes Blog. A Spectrum Analyser is promised at some time (hopefully soon).